Our cremation ash Memorial Glass Paperweights are a beautiful way to cherish the memory of a loved one. The ashes can be seen through the intricate layers of glass and can bring comfort when on display. We have been making glass remembrance ashes keepsakes for 20 years. Our ashes into our glass paperweights have proven one of the most popular keepsakes.For more information about how we process ashes into our beautiful glass scroll down.
Our paperweights come in many different colours and we can engrave them either on the bottom or visibly on the top.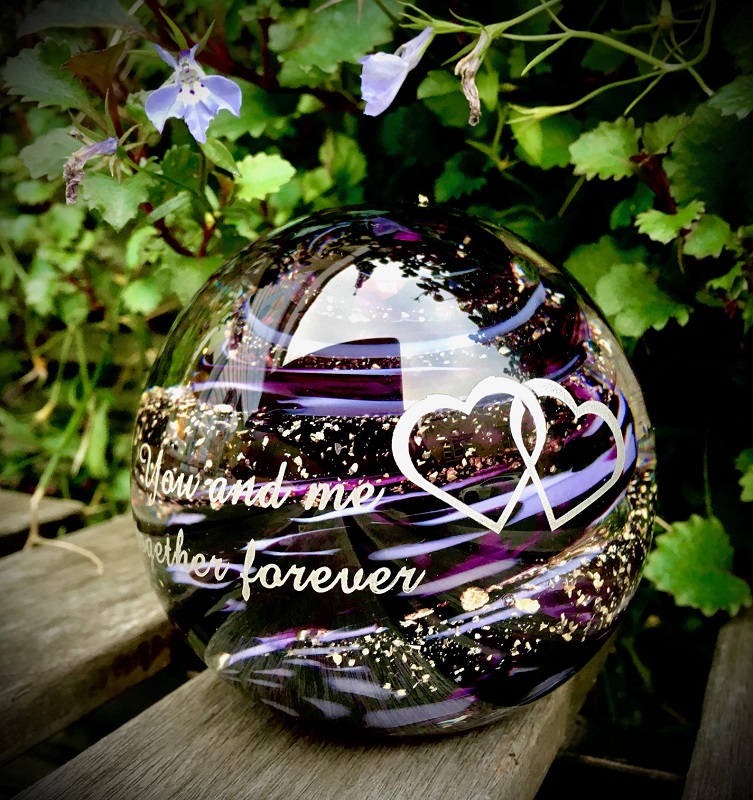 Once you have ordered we send you a memorial pack. All the instructions are in the pack, but please contact us with any queries.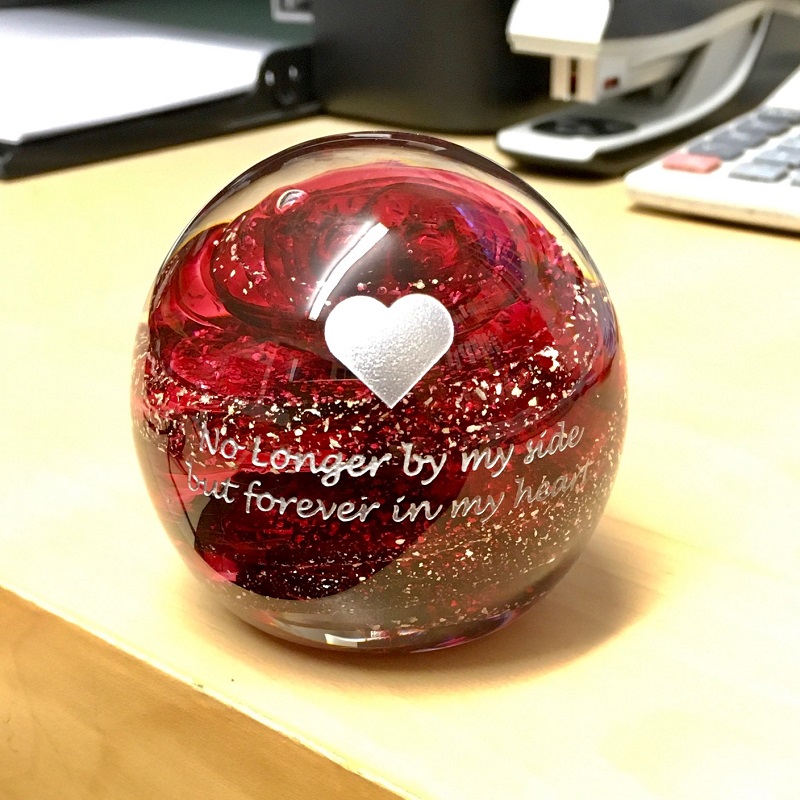 To form our paperweights we encapsulate the ashes sensitively by gathering a glob of glass from the furnace. We then have the chips of colour and the ashes on a metal tabletop which in the trade we call a Marver. The colour and the ashes are rolled into the glob of glass. It is then put back in the furnace to gather another layer of clear glass which encapsulates the colour and the ashes into the paperweight.
It is then shaped by a cherry wood spoon which is constantly soaked in water to keep it from burning. This shapes the paperweight. The glassblower is constantly turning the blowing iron to keep it even at the end and prevent it from falling.
The paperweight is then knocked off of the blowing iron. It needs to be torched with a flame to smooth out the knock off point. It then needs to cool down in the Lehr to cool down overnight.
Hand blown glass needs to cool down slowly to prevent cracking. The term we use is "annealing" which means to cool down slowly.
The next day it is removed from the Lehr and is checked and signed.
If engraving has been requested it is sent to the engraver.
When finished it is shipped to the customer.
If you need any more information do not hesitate to call Judith on 01225 319606 between 8am until 5pm Monday to Friday.
To order a memorial pack please click here