Ashes Into Bath Aqua Glass
Here at Bath Aqua Glass, we sensitively encapsulate cremation ashes into lovingly hand-made memorial ashes into Bath glass keepsakes. We know often words cannot express your feelings of losing someone you love and we hope our cremation ashes glass remembrance keepsakes can help. We make it our mission to create beautiful pieces of art that keep your loved ones with you. We create a range of different hand-made ashes into memoria glass items for our customers, from paperweights and solid glass animals to glass jewellery and stained glass.
We have over 20 years of experience of working with ashes into memorial glass keepsakes and offer first-class customer service. All items are lovingly made to order here in Bath, UK and Judith, our wonderful studio manager, has handled the ashes into memorial glass process for years and is devoted to the service. She herself has a beautiful keepsake with a dear relative's ashes in.
We also understand that our customers may want something more. We work on many bespoke commissioned memorial glass items and offer a personalised engraving service to all of our customers for the extra special personal touch.
Please view the ranges below, and for more detailed information on our products and how to order, visit our Frequently Asked Questions (click here)
If you would like to receive our free Memorial Order Pack, please fill in our form (click here) or call 01225 319606, or email sales@bathaquaglass.com
Funeral planning can be a stressful and emotional time and there are funeral directors and all the details of the funeral service to deal with, so we will work with you at your pace to create the perfect treasured keepsake. The memorial packs can be shared and discussed with family, and you are welcome to request additional copies, just mention it on the request form.
Please click the images below to see the ranges...
Watch our master craftspeople in action
These stunning pieces have been produced in our Walcot Street studio for over 20 years where our Master Glassblowers carefully and reverently work to shape the glass into custom pieces which are truly a special token of remembrance of a loved one.
We gather the molten glass and then roll it in the ashes and the chosen colours and then re-heat and gather another layer of glass to encapsulate the colour and ashes into the piece.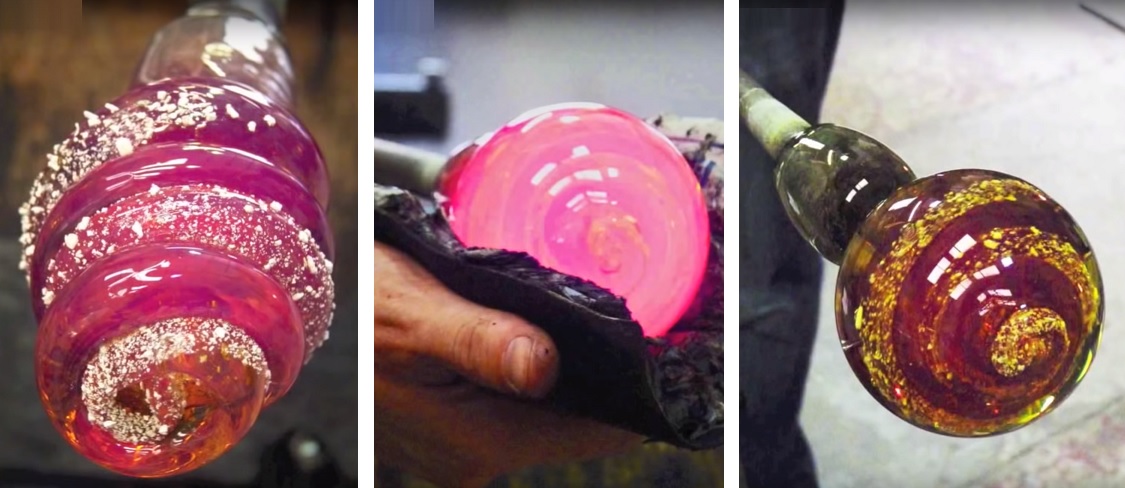 Request a free Memorial Ordering Pack
To receive our free, no-obligation, Memorial Pack in the post, please fill in our form (click here)
or call us on 01225 319606 or email sales@bathaquaglass.com
If you would be more comfortable placing your order by post rather than online, the pack contains an order form for you. You are still welcome and encouraged to complete the order on our website, as it can be accessed 24/7 at your convenience and you can pay securely.
After you have returned your pack to us, orders cannot be processed until payment is received.
Beloved Pet Ashes Into Bath Aqua Glass
We understand that all life is precious, be it human or animal so we offer a Pet cremation glass art service. Here at Bath Aqua Glass our memorial ashes range of products can also be created using the ashes of a beloved pet. We know that a pet becomes part of the family and the loss is very painful as they are great friends and companions to us.
Bath Aqua Glass - to learn more about us...
► Please visit our main website at www.BathAquaGlass.com
► See our master glassblowers in action: Click here for our YouTube channel
► Pin beautiful gift ideas for later: Click here for our colourful and popular Pinterest site
► Follow, share and engage with us on social media: Click here for our Memorial Facebook page