Funeral directors Ashes into Memorial Glass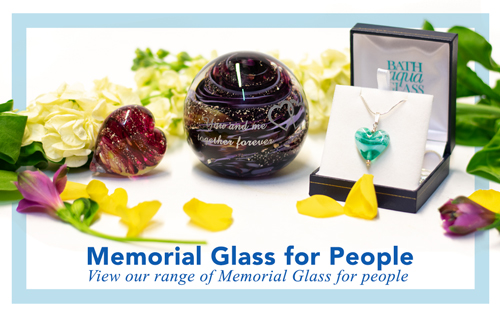 Welcome Funeral Director to our page.
If you are not a funeral director click on the image above
We offer a sensitive service of encapsulating cremation ashes into our very beautiful Bath Aqua Glass. We work with several funeral companies successfully. If you are interested in working with us you can call our memorial department on 01225 319606 or fill in the form below
A little bit about our service.
A lot of our clients prefer to go through funeral directors to deal with their cremation ashes. We offer a prompt and secure service by providing memorial packs to our clients with full instructions. We have a wide range of products to choose from with an engraving service which creates a personalised glass keepsake. Our product range consists of ashes into Bath glass animals, cremation jewellery (gold and silver), ashes encased into glass paperweights, ashes into garden orbs, ashes into bath glass handheld hearts and ashes into rings (gold and silver).
Main Shop:

14 Cheap Street / 15 Abbey Churchyard
Bath
Somerset
BA1 1NA
Glass Blowing Studio:

105 - 107 Walcot Street
Bath
Somerset
BA1 5BW
Email:
Phone:
For bookings, demonstration details, shop and product information: 01225 428146
For other enquiries including wholesale and corporate information: 01225 319606